Top 5 Writing Services
Sometimes it can be quite a trial to find a reliable essay-writing site to help you out with your assignments. How do you tell what site is just a scam and what site is the real deal? Fortunately, we're here to help. Is assignmenthelpexperts.com legit? Let's take a peek and find out.
Services
Assignment Help Experts offer assistance with all kinds of essays and homework, at most education levels and in most disciplines. On their initial quote form, they do not even ask what level you are, which is unusual, as it may well make a difference if they are writing for a grad school student versus a high school freshman.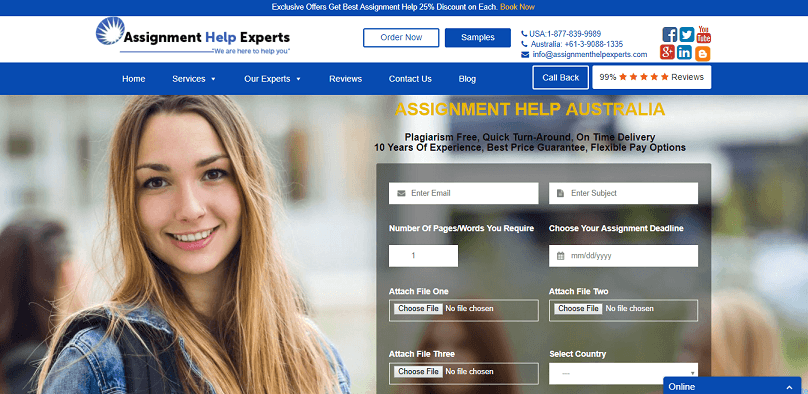 We checked to see what guarantees they offer, but could not find even a Terms of Service, which is a concern. Be aware that they may not offer free revisions, formatting, or other things which most essay-writing services do, and they do not have a Refund Policy.
Quality
Of course, the most vital part of any website providing academic help is how good their writers are. We looked over their reviews and found they were entirely positive, but also vague and undated, with language that didn't quite seem typical of Australian students.
We also checked over the sample essays provided on the site and felt that it was likely they were not written by a native English speaker due to the high number of typos, grammar errors, and punctuation mistakes.
We also did a web search to see what customers are saying about them in external reviews and found that there were a few complaints about timely delivery and the number of typos in the final paper, but overall the result seemed to indicate that the site was, as one customer put it, "average at best."
Prices at Assignmenthelpexperts.com
We were unable to obtain a quote without providing our email details to login, and the site contains no indication of what prices might otherwise be charged.

We did note an offer of a 25% discount, though there didn't seem to be a discount code or coupon associated with it.
Support
Assignment Help Experts provide a support email and AU phone number, as well as a Live Chat service, and links to various social media accounts, including Facebook, Twitter, Google+, Linked In, and YouTube. They do not disclose any information about where in Australia or the US their company is registered.
Misleading information & poor grammar website content
Conclusion
We need to recommend that you seek out an alternative site. This one may be average, but surely you deserve better than average. There are other far more reliable and helpful sites out there for Australian students to get help with their essays from.
Assignmenthelpexperts.com review – Rated 4.2/10