Top 5 Writing Services
Is AustralianAssignmentsHelp.com legit? It can be really hard to dismiss any possible scams and find the best, most reliable site. Luckily, we're here to give you a hand. We want to make sure you're aware of all the possibilities and alternatives, so we'll look into this site and give you our verdict.
Services
Most essay-writing services have a clear list of what they provide in a separate page, but Australian Assignments Help doesn't seem to. We checked through the site to find what services they offer, and they seem to include editing and proofreading, PowerPoint presentations, article reviews and more. They will include a bibliography for free, and if you are unhappy, unlimited revisions are on offer.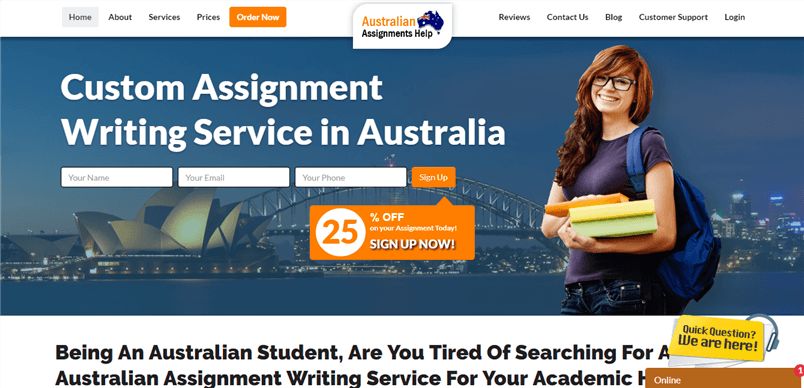 Quality
AustralianAssignmentsHelp don't appear to have any reviews from customers or samples of their work on their site, so we had to check Google for any external reviews. Unfortunately, we came up pretty much empty there as well, which suggests that not many customers have actually used the service.
To try and get some idea of what their work would be like, we looked over the text of the website. We found numerous mistakes in grammar and spelling, as well as odd word usage, which leads us to believe that the site was not set up by native English speakers.
Prices at AustralianAssignmentsHelp.com
We were able to run a quick, simple quote on the site for an essay of 10 pages, double-spaced, due in four days. For a Premium Quality paper, this would cost AU$279.86, which seems to us to be a little beyond most student budgets. Even with better planning and a deadline of 10 days, this would still cost AU$209.86.

We were hoping to find some discount codes or coupons, but none popped up in our search, though they might be available once you login.
Support
Australian Assignments Help has a live chat service (which happened to be offline when we checked the site) as well as an informational email address and a support phone number. They also have links to some social media, including Facebook, Twitter, Google Plus, and Pinterest. There is no indication of where they might have registered their company.
Average quality of written assignments, old-looking website
Conclusion
Overall, we feel Australian Assignments Help is no better than average. There are many sites out there with a clear proven track record of great customer service and excellent quality, so we think you'd probably be better off steering clear of this one, and having a look somewhere else.
Australianassignmentshelp.com review – Rated 4.8/10