Top 5 Writing Services
Beware!
Go Nerdify is rated 3.7/10 which is below average.
Detected issues: no upfront information about the real nature of services, no information about writers and their qualification, the order form and pricing is hidden and only available in form of messages via phone or Facebook Messenger.
This service is rather unique, so calls for a rather unique kind of review. GoNerdify bill themselves as a kind of PA to students from Australia, the USA, and Canada. They can provide writing work to students who need a hand with their assignments, but that's only a small slice of what they say they can do. Can they deliver a good paper, or have they bitten off more than they chew?
Services
Gonerdify.com say they can do anything for you, as long as it's legal and not against your university's policy. To get in touch, you message them on Facebook or leave them your phone number, and you're instantly chatting to an operator. They can help you with an assignment question, source a textbook for you, or proofread some of your writing. Writing tasks are undeniably helpful, but in the age of Amazon and Google, do students really need a third party to find a book or other physical object for them?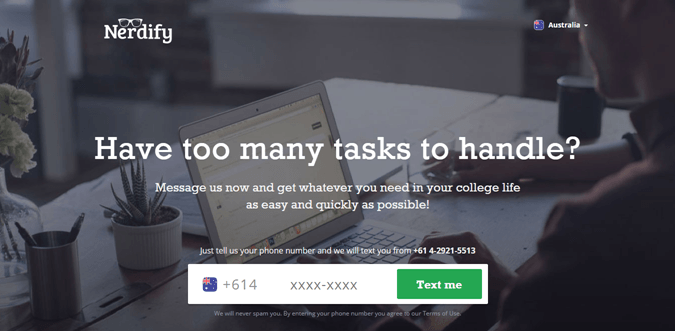 Quality
GoNerdify claim they deliver top quality work, thanks to the qualified writers and 'nerds' they have on staff with PhDs and degrees in a variety of subject. There are also some reviews from past customers, saying how quick they were to get in touch with them and deliver the work promised. However, due to the nature of the services they provide, there's no real way of them providing samples of how they write and structure work for students who get in touch with them. Their writing may well be excellent, but there's no real way of finding out if they're legit.
Pricing
Again, thanks to the uncertain nature of their work, there's no indication of how much it would cost to have an assignment written. On the main page, examples of $25 per hour are given, but how does a student know how long it will take for someone to write their paper? Also, there are no discount codes or coupons available on the site for first time users.

Support
The one thing gonerdify.com does well by its very nature is support. For many students, using messaging services are second nature, and having a professional on the other end of the line is supremely helpful. If you have any questions, you can get in touch and get an answer almost instantly.
Wrong nature of provided services
Conclusion
All in all, GoNerdify have created a new and interesting service that they feel that today's students need. However, the nature of their work means that we just can't ascertain if you should use them when you need an academic writer. Because of that, we just can't recommend them.
If you're looking for a more mainstream alternative, try out the services that were chosen by both students and experts. They have a clear pricing structure, excellent support for Australian students, and highly qualified writers to write your perfect essay.
Gonerdify.com review – Rated 3.7/10