Top 5 Writing Services
Beware!
Australian Writings is rated 3.2/10 which is below average.
Detected issues: fake official registry, high prices, poor support and referencing.
Australian Writings claims it's working for 16 years on offering assignment writing help to students, not only in Australia but the world over, but it's not possible to verify. For a start there is no company called Australian Writings Pty Ltd in registry of Australian companies, so the official company name is probably fake and does not exist. They've chosen a .com domain name in order to advertise the fact that they can help any student, no matter where they are based. Have their claim of experience given them the edge on the other custom writing services out there? We aim to find out in this review.
Services
Australianwritings.com says they offer a varied range of academic texts they can write, including book reports, essays, and dissertations. There's even an option to have them write just a section of your dissertation, so if your abstract is giving you trouble, you can send it to them and get on with the rest of your work. However, many writing services are diversifying into offering assistance with homework, essay planning, and tutorials, which it seems Australian Writings isn't doing at the moment.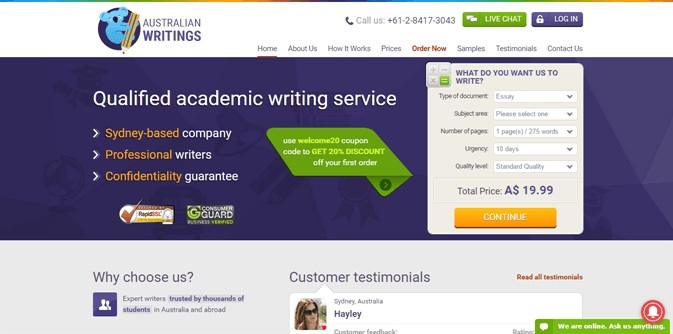 Quality
There are plenty of reviews on the site's page that are four or five stars, asserting that the customers got good marks on their assignments and that they were delivered on time. There are plenty of samples available too, so you can check out their style and see if they're legit before you order. However, what worries us is that in the samples, there's no referencing of the facts quoted in the text. If they were handed in as assignments at any university, red flags would go up straight away as it's a marker of plagiarism.
Pricing
AustralianWritings offers a pricing calculator, which is a bonus as many academic writing services don't seem to see fit to offer this service. However, the issue with their pricing is that it appears to be so high. For a 10 page essay, they charge $199.90 for standard quality, $219.90 for premium, and $249.90 for platinum. You sooner you need the assignment, the higher those prices go up. Having seen the quality of the work on offer, those prices are honestly too high. There are coupon and discount codes, such as the 20% off a first order discount, which does mitigate the pricing somewhat.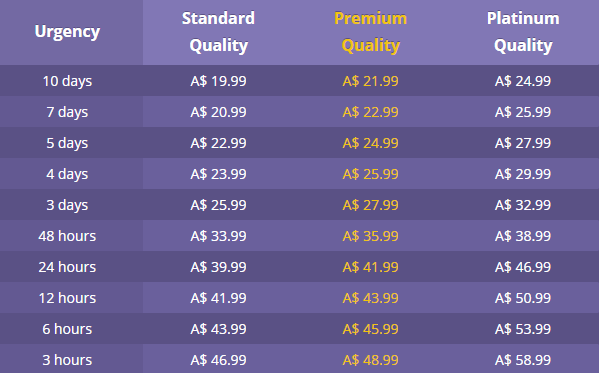 Support
The testimonies on Australian Writings' site state that many people have had issues communicating with their writers while they were waiting for the work. The customers always did get their work on time, but when you're waiting there's nothing worse than being left dangling with no communication at all. If you do need support though, there's a live chat and phone number so you can keep in touch.

A service with several major issues in quality of academic papers and level of support
Conclusion
There are several issues with AustralianWritings. The high prices, lack of communication, and lack of referencing are all problems that any student will really want to avoid. The fact that they claim to be an officially registered business while it's easy to verify that they are not is also putting every customer at risk using this website. If you're looking for a better alternative, try top rated services known for high quality assignments for Australian students, written for reasonable prices and in good time for your hand in date. If you're in a tight spot, they're the ones to call.
Australianwritings.com review – Rated 3.2/10