Top 5 Writing Services
Student Assignment Help is a writing service aimed at Australian students. Of course they claim to be reliable, and show some good customer reviews, but anyone can do that on their website.
Our impartial review will help you to answer the question is Student Assignment Help legit?
The Services on Offer
This site offers help with law assignments, MBA assignments, case studies, theses and economics.
They can help all AU students across all academic levels.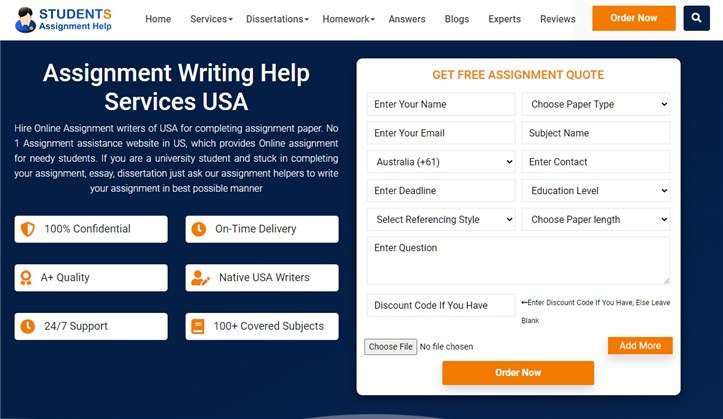 The Quality on Offer
While on first glance, the website looks ok, when you begin to read the text, you will see that the quality is appalling. With terrible grammar and randomly placed capitalisation, this is not a good sign for an essay writing service.
A good example of this is the page that starts with "During the last 10 years we have done more than 1 lack assignments" (sic). Not only are there several comas missing, but what does that sentence even mean?
Based on that alone, we recommend Australian students look for an alternative writing service, as if this is the sort of writing studentassignmenthelp.com feel is acceptable to showcase publicly, can you even imagine what your essay will read like?
The Price You Will Pay
You can't actually get a quote for a price on this website without entering all of your details and getting a login. They email the quote to you. This is a long, irritating process to get a quote and it means that you will be subjected to spam emails from them constantly if you choose not to go ahead.

There's also no mention of discount codes or coupons, so it's unlikely you'll be able to get a saving on your price.
The Support on Offer
There is a contact number, but you can only use it through WhatsApp which means it's less than useless if you don't use WhatsApp. There is also so called live chat available on the site, but it doesn't seem to ever be online.
Everything is set up to force you to give them your details to get even the simplest query answered.
Website full of grammatical errors, low quality writing
Conclusion
This is one to avoid. The lack of information on pricing without giving them your details screams scam, and even if it isn't a scam, there's no support available and the quality is abysmal.
There are plenty of good services out there with refund guarantees and good quality writing. Choose one of those.
Studentsassignmenthelp.com review – Rated 3.3/10