Top 5 Writing Services
Top Quality Assignment claims they hold the Australian student first and foremost in everything they do. Having been in the assignment writing process for just over a decade at time of writing, they say that their qualified writers can write a paper for you in almost any subject. Does the quality of their work live up to the hype? This review will find out.
Services
If it's a written assignment assigned to you by your university, topqualityassignment.com say they can do it for you. Essays, dissertations, and research papers are all covered, so if you're drowning in assignments they are selling themselves as the people to go to. However, there are no additional services such as editing or proofreading on offer, like many other writing services offer. As such, they may not be able to offer everything you need from them.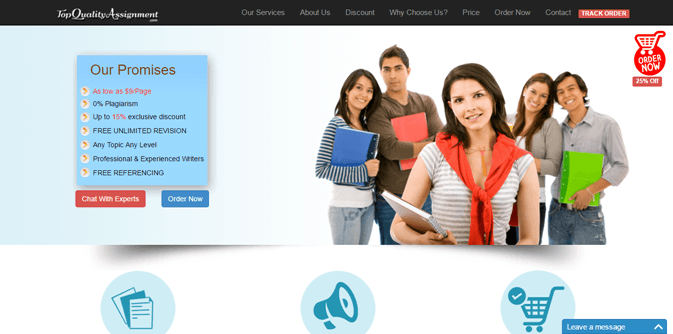 Quality
There are reviews available from past customers on the site, and they testify that TopQualityAssignments can get work to you quickly, but there's no comment on the quality of the work. There are samples available, and reading through them it seems as though their writers do know what they're talking about. The essays are of good quality, with appropriate referencing where needed.
Pricing
There is an issue with the pricing on the website. There's a price calculator included on the main page, but if you try to use it, none of the drop down menus have any values in them. If you're trying to get quotes from several sites before you decide who you're going with, this is going to be a real barrier to entry. If you can get prices though, it's worth knowing that Top Quality Assignments do offer coupons. At the moment, there's a discount code for up to 15% on the work they do for you.
Support
If you need support with your order, there are several ways in which you can get in touch with Top Quality Assignments. There are email and live chat options, as well as a contact form on their site. If you're more technologically minded, they even have a Skype call option. However, we don't know how quickly you'll get a response from them.
Incomplete list of services
Conclusion
There are some issues with the service TopQualityAssignments provide. If you're looking for an all in one service you're out of luck, as they don't offer any extra services. Also, the current inability to get a price estimate is a real problem, as a student comparing prices will instantly discount them when they can't get an idea of how much it will cost them.
If you're looking for an alternative service, why not check out the top rated companies? They're focused on academic writing, so you know that any assignment they write for you will be written by someone with a deep knowledge of your subject.
Topqualityassignment.com review – Rated 3.3/10