Top 5 Writing Services
Important notice
Study Moose is rated 4.4/10 which is below average.
The main purpose of Study Moose is academic papers database – they collect and post papers online to attract more visitors. This makes them an unpreferable choice to order your papers as they may publish it after some time.
Students often have multiple tight deadlines to juggle at once and can find it overwhelming so may need some additional help from time to time. However, we understand the importance of doing your research before committing yourself to ordering from any Australian writing service and therefore have completed an honest review of many AU services.
Is Essays.StudyMoose.com legit? Or just another big scam? Read on to find out exactly what we thought.
Services
When we took a look on the Essays Study Moose website we were surprised that they only had one page to view, other than a few other details. To get some information on what type of services they offer we had to go through as if we were placing an order – something that can put off potential customers or something they may not even spot to do.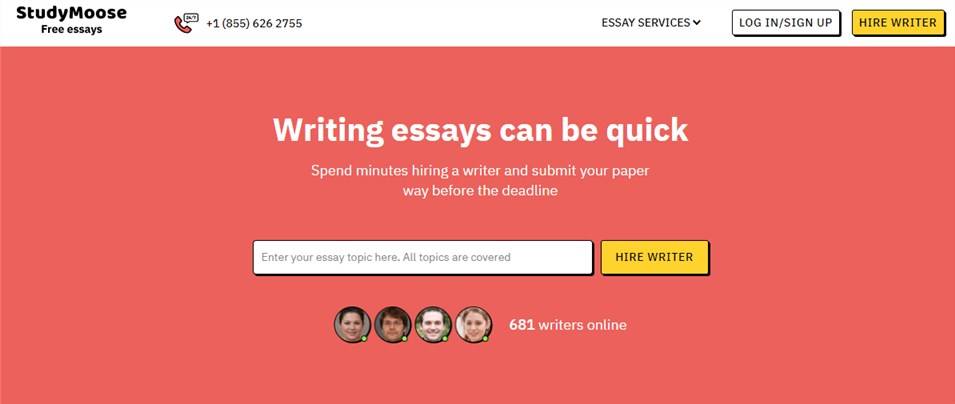 Essays Study Moose offer a range of services from custom writing, rewriting your work to editing as well as able to complete a range of papers from essays, article reviews and much more.
As their information is all on the one page, it also isn't simple to get hold of any price lists, samples to view or refund policies which is quite off-putting.
Quality
Their website doesn't show much in terms of the quality of their work so we had to do a bit of searching online to find out what customers thought of their work. In one particular review we found, the customer said that not only did their paper not arrive on time but it was also a terribly written paper. It had grammatical and spelling errors throughout and also showed up with containing 56% plagiarised content, which is unacceptable. In sections of the paper, parts had been directly copied and pasted from previous work that could be found online which is not something you expect to see from a writing company as it can be detrimental for a student.
Prices
We had a look on their website and the only piece of information we could find about their prices was that a one page paper would cost $15.90. However, they do run a discount code which offers the customer to $2.00 off.
While they offer a standard, premium or platinum quality service, there is no indication on what this means.
They offer no other coupons.
Support
As we mentioned above, we did a bit of research into Essays.StudyMoose.com and found out that some customers were more than upset with the quality of work they received. We also discovered through reviews that they offer no type of customer service – they offered no phone number, email address or way of contacting them when needed which shows them as completely unreliable.
Essay database website, negative feedback on the Internet
Conclusion
As many of their customers have received poor work and literally no customer service, we cannot recommend EssaysStudyMoose as a service to use in Australia. You would be better off with an alternative service who can at least offer a type of contact.
Also, their main website Studymoose.com offers a really big database of pre-written essays and therefore there is a high risk that your essay will later be posted here as another sample of writing.
Essays.studymoose.com review – Rated 4.4/10