Top 5 Writing Services
Important notice
Oz Assignment Help is rated 4.3/10 which is below average.
Website has changed it's name, currently forwarding visitors to ozassignments.com (therefore we've merged rating with the new address).
Oz Assignment Help is one of many academic writing services online that have popped up, offering to assist students with their assignments. Their selling point is that they're a company designed for Australian students, by Australian students, offering a personalised service. Can they deliver on what they promise? This review aims to find out.
Services
As the OzAssignmentHelp website suggests, they offer academic help to students in Australia. On their list of services, they offer 'help' with many different academic texts, such as homework, project writing, and dissertations. However, it doesn't seem to be clear whether they just offer side by side assistance, or actual essay writing services. For someone who needs an essay written quickly, this could be a problem.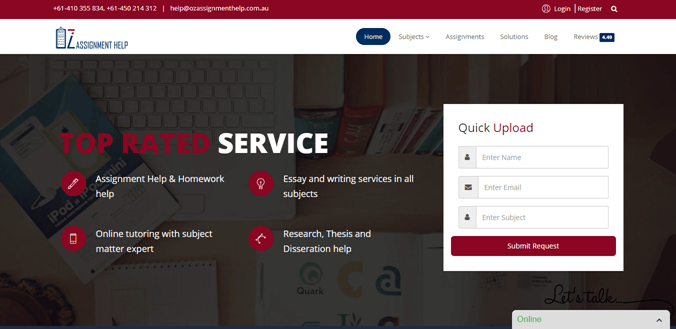 Quality
The problem with assessing the quality of Oz Assignment Help's work is that it's difficult to do so. There are some feedback reviews on the site, but they're only a couple of lines long and don't go into any detail about what the company are like to work with. There are example pieces on their home page, and technically they do appear to be legit. However, what is concerning is that the theories and statistics quoted in the pieces we saw weren't referenced in any meaningful way. They were hyperlinked in the text, but when it comes to academic writing, hyper linking just won't cut it.
Pricing
When testing out their services, we tried filling in the form for an instant quote. However, even after filling everything in, the site appeared to suffer an error and couldn't fullfil the request. Sadly, that means we can't give information on their pricing. However, if you can make it work for you, they do offer a discount code if you refer a friend to them. There's also coupons for extra copies of your assignments, and staggered discounts if you use them multiple times, but if you don't know what they charge initially, you don't know if the coupons offer a good deal.
Support
OzAssignmentHelp offers 'help' and 'support' with several academic assignments, as well as online tutorials, but it's not very clear what exactly this help entails. When it comes to tutoring, this could mean anything from proofreading finished work to offering one to one subject teaching. It appears that you won't find out what exactly it is until you get the quote.
If you need assistance with anything, it does appear that there's many ways of getting in touch. The site features a phone number, email address, and live chat option, so if you were working with them and need help, it appears that it's fairly simple to get in touch.
Company with a low quality score
Conclusion
Having examined the OzAssignmentHelp services on offer, it seems as they may not well have experience on their side, the service itself leaves something to be desired.
Ozassignmenthelp.com.au review – Rated 4.3/10