Top 5 Writing Services
Beware!
Oz Essay is rated 4.1/10 which is below average.
Detected issues: poor referencing, possible plagiarism, lack of information about writer's background.
This essay writing service claims to be working since 2005, providing all manner of academic assistance to Australian students. They claim to be able to help students manage their time better, taking care of their assignments while they get on with the things that are important to them. This review aims to find out whether these claims are true, or whether they're biting off much than they can chew.
Services
OzEssay are able to offer a wide range of different services, thanks to the quality of the writers they have working for them. They offer services for high school students all the way up post graduate students, so they can offer book reports, essays, dissertations and more. Opening themselves to such a large range of students though, we do wonder whether they are able to provide the same level of quality to every customer they receive.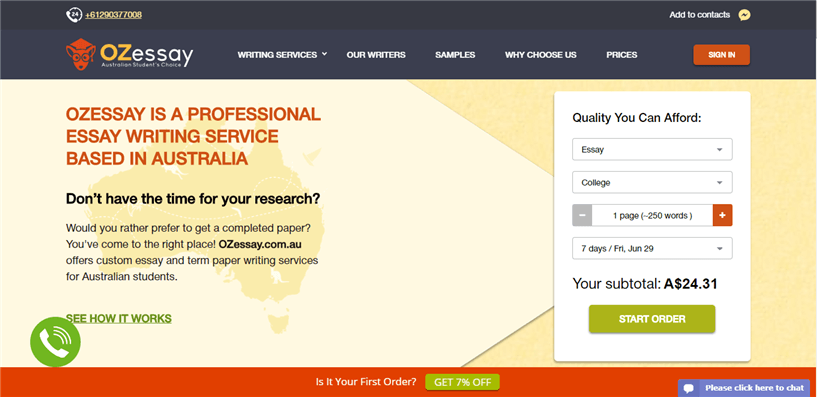 Quality
There are a good deal of samples available for download from ozessay.com.au, useful for anyone looking to check on the quality of the work on offer. The examples we saw were written decently, easy to read and got information across effectively. However, we did not see any referencing used in these examples. When so many educational institutes are on high alert for plagiarism, this seems as though it could be a huge issue for people using the service. Additionally, there don't appear to be any reviews from past customers available, which means potential customers can't get an idea of what Oz Essay are like to work with, and whether their work is legit.
Pricing
There's a price calculator on OzEssay's main page, which is handy for comparisons. For a 10 page essay, it calculates that it will cost $190.30 altogether, without any  'premium' or 'platinum' options. This is slightly cheaper than other services that we've seen. The site doesn't have a coupon system as such, but there are larger discount codes, depending on how much you spend with them. For example, spend $100-$300, and you'll receive a 2% discount.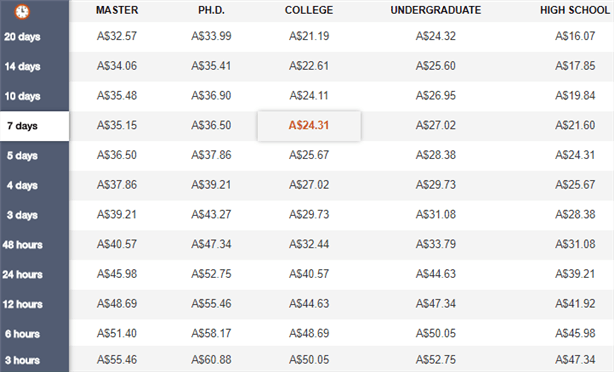 Support
Oz Essay offers a live chat support system, ready for customers with queries. They also use Skype and their own, specially designed Android app, great for technologically minded students. The online methods of communication are useful for those students who don't live in Australia, so they're not paying out for costly phone calls.
Writers are not qualified enough
Conclusion
Budget minded students may be drawn to Oz Essay due to its slightly cheaper pricing and cumulative discounts, but the quality of the essays and writing on offer may not be up the standard that students need to get those top grades. They may have some qualified writers hired on to write for them, but it seems as though they are stretched too thin.
If you want an alternative, try out one of the rated services. They have writers that are dedicated to writing within their subjects, and can create high grading papers for students within tight deadlines. Their prices are fair too, making them affordable to students on a budget.
Ozessay.com.au review – Rated 4.1/10