Top 5 Writing Services
The name 'Australia Best Tutor' really shows just how confident this academic writing service is in what it can deliver to Australian students. They claim that they offer 100% satisfaction on every piece they write, and as they've been working for 10 years now, they must be doing well for themselves. Can they live up to their name and give top service? This review will investigate.
Services
AustraliaBestTutor work with both high school and university students, offering their services to a wide range of students. In their services list, they offer homework help to high school students, and assignment and dissertation writing services to university students. In addition, there's offers of help with online tests and assignments.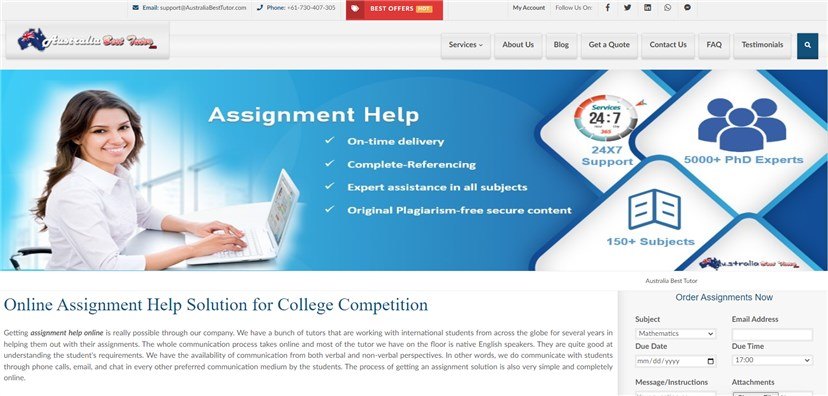 Quality
In these reviews, we try our best to try and find out just how well the site's writers work. Usually, we do this by browsing their samples and assessing the quality of the writing. However, australiabesttutor.com simply doesn't have any available to read. This is a real problem, as any student who's looking for a service to use just can't tell if their writers are up to the task of writing within their subject.
Pricing
Again, we have tried to get the prices for you the reader, using the scale of a 10 page paper that we normally use. However, again, there's no obvious way of getting the prices, or at least an estimation. There is a form that allows you to tell Australia Best Tutor what you're looking for, but it's so badly put together that we couldn't get a request through. Not having at least some idea of the prices available is a poor move on their part, as no student will want to go through the job of outlining the job before they even have an idea of how much they'll have to pay. Also for your own information, it's worth noting that there are no discount codes or coupons available that we can see.
Support
If there's one thing australiabesttutor.com does well, it's giving you means of support. They have a few different ways of getting in touch with the company. There's an online form, a phone line, Skype support, email, and live chat. The site promises that you'll have a reply within two hours.
Suspicious service with no proof of legitimacy
Conclusion
So, does Australia Best Tutor live up to their name? Honestly, we can't tell. The fact that we can't see any testimonies from past customers, or even any samples of their work, is a serious concern. If they've been providing academic support for over 10 years, why don't they have anything to show us their style? Thanks to this, and the lack of pricing available, it just doesn't seem that they are legit in the slightest.
A better alternative, if you're looking for someone to help you write your essay, is one of the top services. Staffed by highly qualified writers, they can help students in Australia with any issues they may have. They're fairly priced, so you know that you're getting good quality for a good price.
Australiabesttutor.com review – Rated 1.8/10